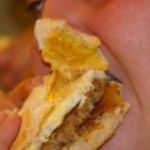 Are you an emotional eater?
Emotions can be deadly. At least when it comes to eating. And the VAST majority of us are "emotional eaters." And that leads to excess bodyfat.
We eat when we are stressed-out
We eat when we are overly happy
We eat when we are depressed

And when you eat like this you can kiss your fatloss goodbye.

There's a 4-minute video that I want you to watch today. It is touching, funny, and very powerful all at the same time. And it will help you come to terms with emotional eating.

Go here —

P.S. This is a very unique video. I know you will love it.

And I KNOW you will benefit from it.

Please share this with others too.
Related Blogs