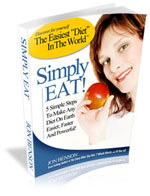 If you've ever tried to 'diet' in the past without luck, this may be the most important note you ever read. No pills or gimmicks…just the simple truth. Enjoy!
You know, I can think of five books that are current best-sellers, each promoting a special
diet, and each contradict the other four books!
What's a health conscious person do to?
Now, consider this…
One out of four children born from the year 2000 on will develop type 2 diabetes in his or her lifetime;
America has become, bar none, the one and only champion of "obesity". In fact, obesity has just been named the number one preventable contributor to at least three of our top five killers;
Over 150,000 books (no kidding) are in print that deal with diet, health and fitness, yet every nutrition-based lifestyle illness is still on the rise;
There are third-world countries without any advanced medical care who are healthier than we "civilized folks"Does ANY of this sound acceptable to you?
Well, now I have some terrific news. There's a simple, 77-page book that's already shot to the best-seller list because…well,it's simple!
It's not a d.i.e.t — it's a 5-step formula that makes ANY foodplan up to 5 times easier,faster and more enjoyable to follow.
The book is called…and I love this!…"Simply Eat!"
How would you love to "simply eat"?
"Simply Eat!" is exactly what it sounds like –a simple, no-nonsense approach to sane and effective nutrition. That means you have more energy, less fat, greater health, and far less confusion.
And, get this —
"Simply Eat!" works if you're a vegan. It works if you're on Atkins. It works if you're on ANY type of food plan that's based on unprocessed foods.
Five steps.
That's it.
And it will work for YOU.
The Souplover
P.S. Jon is giving away four fantastic freee bonuses when your pick up "Simply Eat!" during this brief introductory offer —